HOME / FIVE DAY RAIN / CABARET / POETRY / MUSIC / SHINE / ROSIE / STREAK / THE GIPSY GANG / DEMO / THE FASCINATIONS
MY OTHER STUFF
My Charity site is at:
At the beginning of September 2008, I went to a village called Kimilili run by an organisation called OMWABINI,
in Western Kenya, on a volunteer scheme, to help children who have been orphaned due their parents dying of aids.
OMWABINI have around 9 different projects to choose from and you don't have to stay on one programme during your volunteer period,
so you get a good feel for what the Kenyan people are having to go through.
I did anything that was required, including teaching music, basic IT skills, English and hands on construction work.
I returned in 2009 for a month and in June 2010. I have since been made UK director of fundraising,
and have started my own charity to send nurses and medical supplies to Africa, and to build clinics.
Sussex Express Article Friday July 25th.2008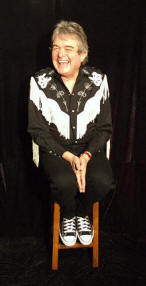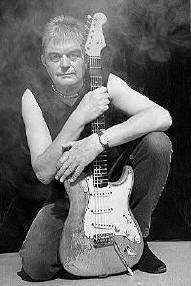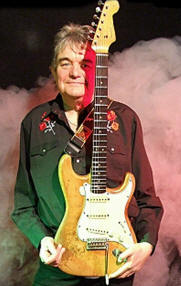 Within these portals, you will find my poetry, short stories, music, info on the legendary FIVE DAY RAIN. STREAK, later to become ARROWS,
(A STREAK ACETATE HAS JUST BEEN UNCOVERED & YOU CAN HEAR 4 TRACKS ON THE STREAK PAGE)
ROSIE, Rock & Roll with SHINE, my BIG BAND stuff, and my entire music history, [all half a page of it]
There is a page on on my daughter Antonia's work , accessed through the FIVE DAY RAIN page. She now has her own site at : www.antoniasharpe.com
GIG LISTINGS & DEMOS ARE ON THE CABARET AND DEMO PAGES
If you would like to join my fan club, monthly meetings are held in a local telephone box.
The CABARET Page covers what 'Old Red Eyes' is currently blighting the local populace with, and a gig list, so you will know when and where to avoid me.
[actually, all four numbers are quite good, and if necessary, I can stretch them over two sets]
The MUSIC and HISTORY pages cover the music and bands that I have written and played since 1964. (God, am I really that old!)
My very good friend Gary Benton, writer and survival expert from the States, has dedicated his latest Western Fiction adventure to me, for helping with some of the dialogue and thoughts of an Englishman.
It is called "Red runs the plains" and he writes under the name of W.R. Benton. I am very proud and deeply honoured, as he is not just a consummate writer, but one of the good guys.
He has also been helping me with the preparation of my first novel "The reluctant sailor" which he will be publishing through his own company Dancing Fox Publishing in early 2011. Check out Gary's site at:

DANCING FOX PUBLISHING
http://www.dancingfoxpublishing.com/
BELOW ARE A COUPLE OF PICS FROM MAD'S (MEECHING AMATEUR DRAMATICS) JANUARY '08 PRODUCTION OF 'ALL, 'ALLO.
IT PLAYED TO FULL HOUSES ON MOST NIGHTS AND HAD A VERY FAVOURABLE REVIEW FROM NODA, WHICH IS REPRINTED BELOW.
I AM PLAYING GENERAL VON SCHMELLING, IN THE MIDDLE, WITH THE EYE PATCH!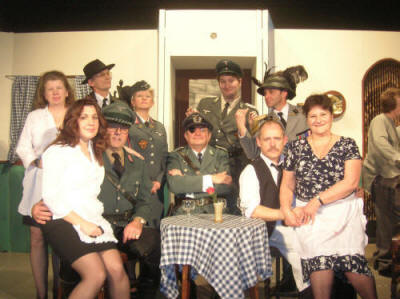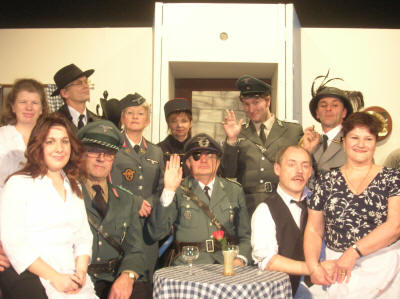 Silent Studios is best viewed in Internet Explorer.
<![if !vml]>

<![endif]>
LATEST UPDATE
12/04/2011 07:48
© MMX1 R.Sharpe